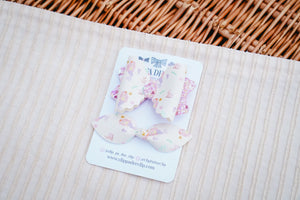 Scallop Kiarah Bow & Knot Bow Hair Tie (Small - Set of 2) - Pink Mermaids (AUS ONLY)
DESCRIPTION Scallop Kiarah Bow & Knot Bow Hair Tie (Small - Set of 2) - Pink Mermaids

MATERIAL Pink mermaid print faux leatherette and chunky glitter.
This listing is for a set of 2 individual bows (one hair clip and one hair tie) - receive one of each design.
BOW MEASUREMENT

 
Scallop Kiarah (Medium) - 6.5 cm
 (length) & 4.5 cm (width).
Knot Bow (Small) - 8 cm (length) & 2.5 cm (width).
INSTAGRAM
@clip_pa_dee_clip
FACEBOOK
https://www.facebook.com/ClipPaDeeClip