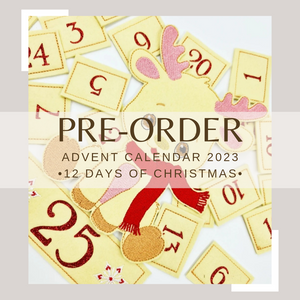 12 Days of Christmas Reindeer Holder - Preorder
Regular price $33.00 Sale
DESCRIPTION 12 Days of Christmas Reindeer Holder - Preorder
***Please note that this is a pre-order for Australian customers only. The reindeer holder will be sent from the UK to Australia and then posted to you from there and will only require Australia post shipping charges ($12.00 tracked shipping)***
You will receive a 12 days of Christmas holder which contains 12 individual numbered pockets, each containing a hair piece (12 in total, one for each day). They are valued at almost $100 and you will only pay $50 (not including shipping), so be quick to order yours now! 
Other items purchased with this listing will be posted out together at the same date.
MATERIAL Large felt reindeer embellishment with felt pockets and a high quality grosgrain ribbon. The bows will be made out of a selection of materials including faux leatherette, glitter, felt and fabric.
Choose from soft, one size fits all nylon headbands, baby hair clips, snap hair clips, partially lined alligator hair clips OR a mix of snap/alligator hair clips. Please email me with your selection at helloclippadeeclip@gmail.com  
BOW MEASUREMENT Assorted as per request. Pockets will only fit small-medium sizes.
INSTAGRAM @clip_pa_dee_clip
FACEBOOK https://www.facebook.com/ClipPaDeeClip